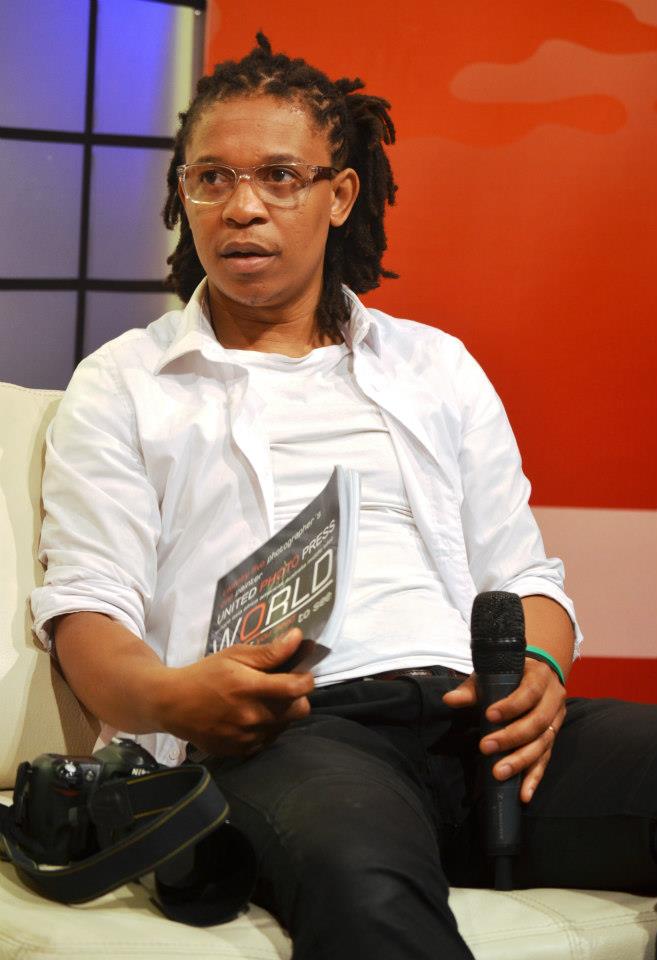 "I believe that Mozambique and other Lusophonic countries are working hard to consolidate the Lusophony spirit, to make it stronger so that we, the Portuguese speaking people, feel firmly united, like sisters and brothers, without any kind of complex. But it is also necessary that each of us take the responsibility for this achievement."
 explains Emídio Josíne, a young Mozambican artist, in a exclusive interview to the Lusophone Society of Goa. About the Mozambican cinema Josine says that "making movies in Mozambique is not easy. We have few film directors for fiction movies, few people educated in film, we don't yet have hundred percent teams of professionals. We need more script writers, continuity, photograph directors, producers; although I must admit that the ones we have are very good."
Exclusive interview of the Lusophone Society of Goa
with the young Mozambican photographer and filmmaker Emídio Josíne*
(The interview was conducted in Portuguese)
As a young promising and Mozambican artist what do you like to do more, photography or movie?
Emídio Josíne – I like both, but cinema was always with me since my teenage, but I needed a starting point. So I began my career as a graphic designer and I had with me a small amateur camera everywhere I used to go. Since that time I developed my photography to reach a professional level.
After learning black and white photography I worked for 3 years as a photo reporter for a newspaper and also as a free-lancer. Because of that the cinema started to consolidate more and more in me. Today I do make short movies (average footage 25'm maximum) and the passion or this addiction for movies grows every day. Presently I am studying film in Amsterdam.
So, photography and movies are like water and air that are indispensable for the human being. I treat both with the same seriousness.
In 2010 at the age of 28, you produced as a film director the movie "Waiting in the backyard". Is this for you the most important movie as a filmmaker?
Emídio Josíne – Yes at this moment I consider it as the most important because first of all it was shot in Brazil, a place I had never been before, second, I worked with two teams, one Mozambican and one Brazilian, and to make the movie gave me more responsibility for cinema, and last but not least because I won the prize of best director and best film documentary, which were very unexpected prizes for me.
But there is another production which is very important for me. In 2011 in Ouagadougou, at the FESPACO film festival, I also won the prize of the best African message for another script I worked on for a fiction movie. But "Waiting in the backyard" was indeed a school for me.
As a photographer, in 2008 you won the National Competition of Photography sponsored by the Mozambican Association of Photography and in October 2011 you also did a photographic trip to Amsterdam, Cologne and Munich with the Mozambican photographer Ismael Miquidade and the German photographer Jan Steinberg. Is there a difference between doing photography in Mozambique and in Europe?
Emídio Josíne – The cold weather from Europe (Netherlands and Germany) compared to the hot weather in  Mozambique, requires to use greater diaphragm aperture in Europe, whereas in Mozambique we use less aperture.
European people are more open for photos, as the problem of privacy is no longer existing. And as photography is considered an art, it is accepted and respected. There is a big respect for a photographer. Surely the European issues are quite different from the ones we have in Mozambique.
The biggest problem of photographing in Mozambiqueis that people don't like to be photographed. But both in Europe and Mozambique we have a positive aspect: the interaction between the photographer and the people photographed. It is a good thing to document cultures when you understand them.
Now you are  studying in the Netherlands at Rietveld Academie and  working  and living in Amsterdam. What is the difference between making movies in Mozambique and the Netherlands?
Emídio Josíne – There is a big difference. In theNetherlandsthe film industry is well structured and well organized. They work with a limited number of people. Every detail has to be done with precision, time and date because its all about money, allots of money, and people are paid per hour. Actors and technical staff are full of experience with high level in cinema, and they take it serious. For this reason Europe is one of the most prestigious destinations for many film directors fromHollywood. In theNetherlandsyou have very favorable conditions to produce high quality  films.
Making movies in Mozambique is not easy. We have few film directors for fiction movies, few people educated in film, we don't yet have hundred percent teams of professionals. We need more script writers, continuity, photograph directors, producers; although I must admit that the ones we have are very good. Even some material we need to rent outside of the country. But the cinematic policy is undergoing many changes, good ones and bad ones. We have theatre actors in films but we need to work seriously to make them become better for film. Something that makes me feel upset as a filmmaker is the lack of support from the government. We, young people, produce films today because of our persistence, we love to tell stories. That is the reason why we produce only few films in Mozambique.
But there is a youth staff coming up structured by Mahla Films, a private film company. They are highly professionals and I believe that it will be a good starting point for the Mozambican cinema.
What do you think about Lusophony? Do you have a Lusophonic feeling in Mozambique?
Emídio Josíne – I mean that the Lusophonic feeling in Mozambique is growing day by day. We consume in Mozambique every little thing from the Lusophony, I am talking about music, fashion, gastronomy and above all there are a lot of partnerships between musicians from Angola and Brazil. My own experience with Lusophonic countries isn't that big, but I would like to extend it more and more and get into workshop with other Lusophonic countries.
Presently I have friends and people I know in six Lusophonic countries and the  relationship with them is very positive. I believe that Mozambique and other Lusophonic countries are working hard to consolidate the Lusophony spirit, to make it stronger so that we, the Portuguese speaking people, feel firmly united, like sisters and brothers, without any kind of complex. But it is also necessary that each of us takes the responsibility for this achievement.
Sincerely, can you tell us, when it was that for the first time in your life you heard about Goa and where that was?
Emídio Josíne – About Goa, I heard for the first time during the geography and history class in the 4th standard. It was about Indian merchants, which traded with African countries, especially with those people along the coast of the Indian Ocean. At that time there was a strong relationship with Zanzibar and Mozambique Island, Indian merchants exchanged local stuff against Indian and Arabian textiles.
Besides that there is a pub in Maputo, called Goa, which is attended by artists, journalists, swingers, politicians and also by ordinary citizens. At the end of the day in this pub Goa there is also peace and brotherhood with no discrimination or complexes. I know that place since I was a teenager, I used to play in the neighbourhood.
During my childhood in Maputo lots of commercial shops belonged to Indians, some of them coming from Goa.
________________________________

*Emidio Josine, a Mozambican artist, was born in Mozambique in 1982. In 2004 he concluded the Visual Art School in Maputo as a graphic designer. In 2008 he won the national prize of photography for new talents organized by the Mozambican Association of Photography, and ended with his first solo exhibition. In 2009/10 he worked as freelancer at the newspaper Mercados (eletronic) and  Zambezi (paper). Josine also had several partnerships with artists and choreographers like Maria Helena Pinto, Manuela Soeiro, Edna Jaime and Horácio Macuácua. Within this framework he did a second exhibition with the photographer Mauro Vombe for the festival of contemporary dance Kinani. In 2010 he was invited to direct the film "Waiting in the backyard" together with Nelson Mondlane (sound) and Amancio Tiago (camera man) both from Mozambique. The movie won three prizes, best director, best producer and best film documentary at the "Festival Ver e Fazer filmes".
In 2010 he was invited by N'weti / Mahla Films to write a script for a 24'm fiction movie called "Lobolo" directed by Michael Mathison. The movie was shown at the Fespaco Film Festival in Burkina Faso and won the prize of best social message.
In October 2011, he travelled from Amsterdam to Cologne and Munich with the two photographers Ismael Miquidade (Mozambique) and Jan Steinberg (Germany) documenting the life style of these people.
He is member of United Photo Press with some photos published on the new UPP book called "WORLD".
In 2012, after working with the photographers Cees Lafeber (Netherlands) and Juraj Fabus (Slovakia) he had an exhibition about Amsterdam in Sao Tomé and Príncipe.
Currently Emidio Josine is studying film at Gerrit Rietveld Academie in the Netherlands. He works and lives in Amsterdam.