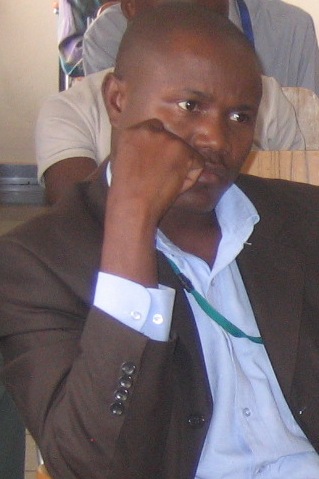 "The first time I heard of Goa should be attending 4th class and it was during a lesson in Portuguese in that matter was the Portuguese-speaking world. As Goa was a toponym strange resorted to atlas to locate on a map this territory. From then on I realized that the lusophone world was much broader than the eyes and imagination allow me to conceive " Luciano Canhanga Angolan writer explains in an exclusive interview to Lusophone Society of Goa (LSG). 
Luciano Canhanga* a writer of Angola tells us about his books, the Angolan literature and about Lusophony. And he does not forget Goa.
An exclusive Interview conducted in Portuguese by the Lusophone Society of Goa (LSG).
Mr Luciano Canhanga you debuted in Angolan Literature in 2010 with "Dream Kauía" and, as a professional journalist, you are responsible for corporate communication of the largest Angolan diamond company the Catoca Mining Society. What does it mean to you to be a journalist and a writer at the same time?
Being a journalist and writer is a harmonious combination that I indulge with pleasure, as the journalist and writer inhabit the same body.
Journalism is a long dream that materialized with training in this field. The exercise of Corporate Communications consultancy in Catoca is exploring the other side of my training in Media. It is a new pleasurable experience which a large part of Angolan journalists try to reach, after a long time working on daily news or periodicals. Literature is only a complement of my being. Actually, I prefer to consider myself as a "note taker or teller of scenarios " because I'm entering literature by chance, as an extension of journalism that I never stopped exercising, because journalism, for me, is like an addiction.
Why do you consider yourself as a "note taker or teller of scenarios " and why don't you like to be called a writer?
I believe that writers who are worthy of that name are those people who endeavor to be one. Those who write professionally and live their life doing fiction. I am a journalist who, with some slack time, tries to transcend from journalism to literature. On the other hand, I do not produce classic literature classic. I'm a reporter of experiences and  literature helps me to represent reality. Although my writings tend towards fiction, they do have a component of experience. If there was a middle ground between journalism and literature, for example the chronic, it would be in this genre that I situated myself  best. I'm a chronicler.
Your book "Manongo Nongo", released in 2012, is a juvenile tale. What is the reason for turning to the young ones?
Actually, there are several stories (fables) and not only one. Some of them I had already heard in my childhood and I retold them with new scenarios and characters, others are of my own creation.
Peoples who had a long period without written records made their history and preserved their culture through orality. I was influenced in my childhood by the stories and history that I heard  of the elders. I decided to take part of this orality to literature as a way to bequeath to the younger the experiences that I have been transmitted orally in childhood.
Today, there are few families that retain the habit of singing to lull a child to sleep or tell a story. Since today's youth have no voice recordings to reproduce to their children, books can help in this mission.
How do you characterize the current Angolan literature?
The creative side is on track. There is greater freedom to write and publish without any form of censorship or liability. I note also the emergence of many new writers. There are only  difficulties in publishing, because there is not a great culture of reading and, for this reason, few books are sold. Books in Angola are also relatively expensive because we have no paper industry and there are high customs fees on the books published outside the country. This makes the writers authentic beggars looking for sponsors for their artistic creations. Often the writers themselves have to bear the expenses of editing, as is my case. 
Which are your favourite Angolan writers and why?
The first book I read was "Vozes na Sanzala" of Uanhenga Xitu. I liked the book, I like his literature and his way of writing. I also admire the writing of Ondjaki, a young writer and very productive, as I admire Jacinto de Lemos, Jofre Rocha, Roderick Nehone, Izaquiel Cori and Ismael Mateus. There are more names but I prefer to mention only these. All of them have a captivating literature and I also consider them as tellers of scenarios. Some, like Uanhenga Xitu, who is an inescapable figure of Angolan literature, show more concern about the content than the form of exposure and, sometimes, I follow this example.
Do you think it is worth to instil the Lusophone spirit in the countries and regions of the Portuguese language?
The Portuguese language is a culture. It is something that exists independently of the dispersion of speakers around the world. Goa and Timorare nowhere near the other Lusophone countries nor are they distant. These territories are where God and human adventure wanted them to be, maintaining an already secular culture and language. The language will remain there forever as it will remain in Africa and South America, It is also important to note that globalization increases the Lusophone Diaspora. Therefore, the Lusophone spirit has to be instilled in the countries and regions that are expressing themselves in Portuguese, and also elsewhere where they want to adopt or communicate in this language. This is the case ofEquatorial Guinea who has been claiming the status of full member of the CPLP (Community of Portuguese Language Countries). As for the language issue, I am an expansionist. Come over speakers!
When did you first hear of Goa and come to know where it is located?
The first time I heard of Goa should be attending the 4th class and it was during a lesson in Portuguese when the matter was about the Lusophone world. As Goa was an unknown place to me I took out the Atlas to locate  this territory on the map . From then on I realized that the lusophone world was much broader than that which my eyes and imagination enabled me to conceive.
_____________________________________
*The angolan journalist and writer Luciano Canhanga with the literary pseudonym "Soberano Canhanga" was born in Libolo (Kwanza Sul province), Angola in 1977. He graduated in Social Communication, worked at radio Luanda Antena Comercial (LAC) and collaborated on many radio stations and newspapers in Angola and abroad. For the last six years he has been responsible for corporate communication of Catoca Mining Society.
He has begun writing atthe beginning of the nineties, with his first novel "The Dream of Kaúia" in 2010, the storybook "Manongo-Nongo" (2011) and the "ebook" "10 Enchantment", a collection of poems (2012). Next month of May he will launch his third book called the "10 Enchantment", a collection of poems that he has been writing since 1993.
He belongs to the restricted group of Angolan writers whose work has been translated into another language. The Journal of Universal Literature Romania "Orizont Literar Contemporan" published two of his poems: "Back Advertised" and "Drama".