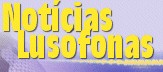 The LSG – Lusophone Society of Goa is organizing with the collaboration of the FO – Fundação Oiente and the GUJ – Goa Union of Journalists a talk about the Lusophone News.
Henrique Antunes Ferreira, former Chief Editor of the leading Portuguese Daily "Diário de Notícias" will speak about this at Fundação Oriente in Panjim, Goa on Friday, 14 th March 2014 at 5:30 pm.
The talk will be followed by a debate moderated by Alexandre Moniz Barbosa, journalist, Times of India.
The presentation and the debate will be bilingual Portuguese/English.
Henrique Antunes Ferreira during his journalistic activity interviewed Mrs. Indira Gandhi and Mr. Rajiv Gandhi as Prime-Ministers.
In the Lusophone World it is urgent to produce and disseminate news, mainly those which are focussing those countries and may be important for the Portuguese speaking nations. It is not needed that this idea should be concretised immediately, but one day it will happen as sooner the better. It would be an excelent idea to create a mini organization which would and could use the Portuguese language on subjects which interest people who speak it.
___________________________________
News in Herald
News published by Goan Daily "Herald" on 17.3. 2014, page 3, after the event: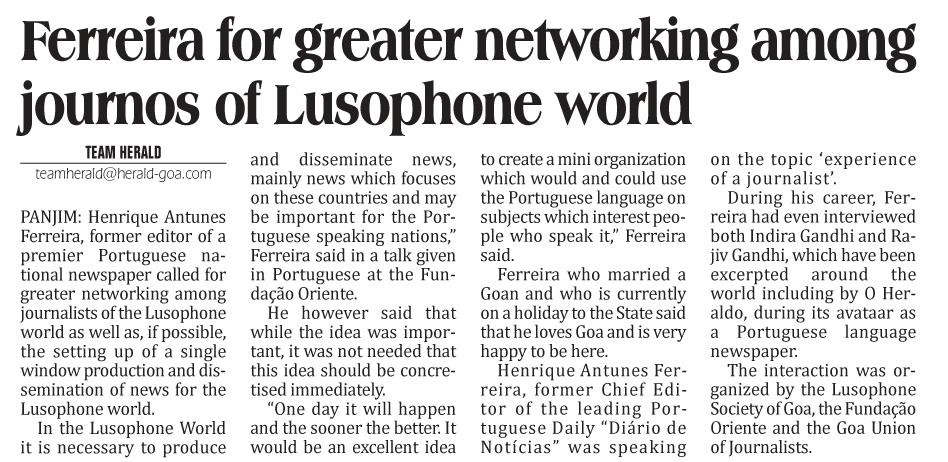 Photo of the event

From L to R: Alexandre Moniz Barbosa, journalist "Times of India", moderated the debate; Henrique Ferreira; Eduardo Carvalho, delegate of FO – Fundação Oriente in Goa, Dr. Aurobindo Xavier president of the LSG –  Lusophone Society of Goa; Ashley do Rosário, general secretary of the GUJ – Goa Union of Journalists
Interview with Alexandre Barbosa
The Portuguese  international Broadcaster "RDP – Internacional" interviwed Alexandre Barbosa, jornalist of "Times of India" about the event. Please listen here:
http://www.divshare.com/download/25293808-58c