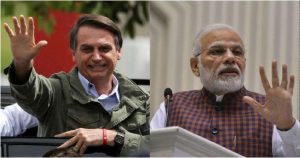 Article of Aurobindo Xavier* published in Scroll.in with the Title
"What does Brazil's new president-elect hold for India, China and the future of Brics?"
On October 28, far-right candidate Jair Bolsonaro of the Social Liberal Party was declared the winner of Brazil's presidential election, having obtained 55.1% of the votes cast. His opponent, Fernando Haddad of the left-wing Workers' Party, bagged 44.9% of the vote. Bolsonaro, 63, will take over as president on January 1. Despite scarce campaign resources and no support from major parties, more than 57 million voters supported the former Army captain's promise to fix Brazil's ills: massive corruption, out of control crime and a faltering economy.
His election, however, sent alarm bells ringing among certain sections of Brazilian society, especially minorities. During his election campaign, he made several remarks that were deemed misogynist, racist and homophobic. He criticised descendants of Afro-Brazilian slaves, implying that they were lazy. He said he would not rape a certain female fellow lawmaker in Congress because she was not worthy of it. He also said that if he had a gay son, he would be unable to love him and would "prefer that he died in an accident". He has also targeted Brazil's indigenous people frequently.
Immediately after his victory, Bolsonaro said he would try to pacify Brazil. "This country belongs to all of us, Brazilians by birth or by heart, a Brazil of diverse opinions, colors and orientations," he said, and vowed that his government would be "constitutional and democratic".
Brazil is the most populous nation in South America and the world's eight-largest economy. Bolsonaro's ascent as the country's president therefore also has global implications. Following his election, experts say that the leader – who is inexperienced in matters of foreign affairs and trade – will follow a radically different foreign policy from that of his predecessors, as this is what he emphasised during his campaign. Among other things, therefore, his presidency is expected to bring about a dramatic shift in relations with India and China as well as the power politics of BRICS – an association of five major emerging economies: Brazil, Russia, India, China and South Africa.
What should India expect?
Brazil is one of India's most important trading partners in the entire Latin America and Caribbean region. Trade between the two countries amounted to $7.60 billion in 2017. While India imports cane sugar, copper ore and soyabean oil from Brazil, it exports diesel, organic chemicals, pharmaceutical products, nuclear reactors, boilers and machinery to the South American nation. Bilateral trade between the two countries grew 35% in 2017 despite the fact that a negligible quantity of diesel, which used to form between 40%-50% of India's total exports to Brazil, was exported during that period.
As in India, agriculture is the strength of the Brazilian economy. Both countries are therefore competitive in similar areas of agriculture. Brazil is projected to be the largest beef exporter in the world in 2018 followed by India, Australia and the United States. Brazil also is the leading exporter of chicken meat. This is likely to influence commercial relations between India and Brazil during Bolsonaro's term.
The president-elect is a strong proponent of agribusiness – one of the pillars of his political platform – and has called for a new, pro-business approach in this sector. Much of the support for him comes from those referred to as the "ruralistas" – the nation's farmers and agribusiness sector – who dominate Brazil's political agenda. The merger of the Ministry of Agriculture with that of the Environment Ministry, proposed by Bolsonaro, could change the supply curve for several commodities, especially beef and soybeans. Bolsonaro's promises to drastically roll back environmental regulations for agriculture, including speeding up deforestation, converting forests into range and cropland could dramatically affect agribusiness globally, including in India. This means opportunities to enhance bilateral investments in agribusiness between India and Brazil could be difficult in the future, and rebalancing agribusiness with other sectors will probably not be easy.
But Fausto Godoy, former consul general of Brazil in Mumbai, feels the leaders of the two countries will get along well. "As far as India is concerned, even though there has not been any specific indication so far, it is important to highlight the similarities of Bolsonaro's thoughts and agenda with Narendra Modi's," said Godoy. "Both pay much attention to the development of the private sector, to de-bureaucratisation of the public sector, and [to] combat corruption." He added: "Modi's thoughts and 'style' look very much like Bolsonaro's," he said. "So I think as far as personal contacts are concerned, they will get along very well."
Blow to BRICS?
Some hints of the likely direction Bolsanaro's foreign policy will take came at a press conference on October 20, where he compared himself to US President Donald Trump. "It is about aiming for a great Brazil like that – the way Trump wants America to be great," he said. He also seems enamoured by another of Trump's statements, delivered at the United Nations in September: "We reject the ideology of globalism and we embrace the doctrine of patriotism." Experts therefore expect that Bolsonaro, who is being referred to in the international media as the Trump of the Tropics, is not likely to be as involved with BRICS as his predecessors were.
Godoy pointed out that during his electoral campaign, Bolsanaro indicated that he would abandon the so-called "leftist" agenda of the Workers' Party towards a liberal one. "In this context, some previous alliances will be reviewed," he said.
China is a major source of foreign investment for Brazil. It is also its largest trading partner. But in past speeches, the president-elect has repeatedly warned of Chinese investors taking control of strategic natural resources in Brazil's mining and energy sectors. "China isn't buying in Brazil, China is buying Brazil," said Bolsonaro in August.
Godoy, however, added that it was difficult to predict which way Bolsonaro's foreign policy would go though "a firm diversion" was likely. "So far, there has not been any specific signal from the new president concerning BRICS," he said. "One thing is sure, though: his closest allies are in favor of abandoning the 'South-South' axis. Of the BRICS countries, only China has been highlighted so far, at first in a negative and cautious mood, now in a positive one. And it could not be otherwise, since China is Brazil's largest trade partner."
*Aurobindo Xavier is the president of the Lusophone Society of Goa.
© 2018 Scroll.in
https://scroll.in/article/900721/what-does-brazils-new-president-elect-hold-for-india-china-and-the-future-of-brics