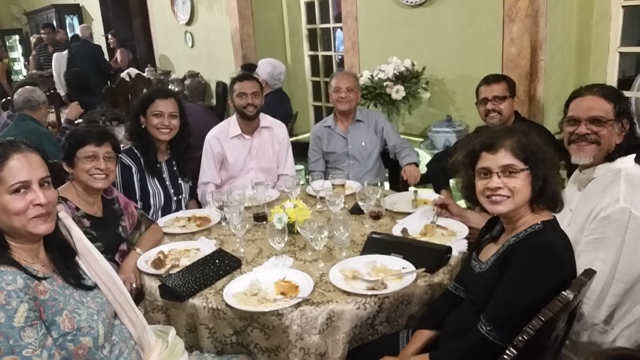 The community of Portuguese speaking Goans and Brazilians met in Goa on Saturday 6 July 2019 for a Brazilian cultural event and took the opportunity to say goodbye to the Consul General of Brazil in Mumbai Mrs. Rosimar da Silva Suzano who returns to Brazil. The event was organized by the Consulate General of Brazil in Mumbai together with the Brazilian Cultural Center in Goa (BCCG).

About a hundred guests had the opportunity to meet at the magnificent Casa Figueiredo in Loutolim, the oldest indo-portuguese house in Goa, about 450 years old. To the sound of traditional Brazilian music performed by a Goan band, the community took advantage to reinforce ties with Brazil, thus contributing to strengthen relations between Goa and Brazil.
Mrs. Rosimar uttered words of recognition for another Brazilian cultural event in Goa and stressed her very positive experience in relation to India in the four years she was heading the consulate in Mumbai. She highlighted the strong steps that were taken during her management in the Brazilian commercial and investment area in the states of Maharashtra and Karnataka and the corresponding Indian investments in Brazil. In relation to Goa she underlined the historical and cultural ties that contribute to approach Brazil and Goa. Maharastra, Karnataka and Goa are under the jurisdiction of the Consulate General of Brazil in Mumbai.
Prof. Aurobindo Xavier, president of the Brazilian Cultural Center in Goa (BCCG) thanked Mrs. Rosimar for the strong support she has always given to Goa and the Goans in the cultural area, thus strengthening the Portuguese language and the Brazilian culture in Goa and wished her success in her future career.