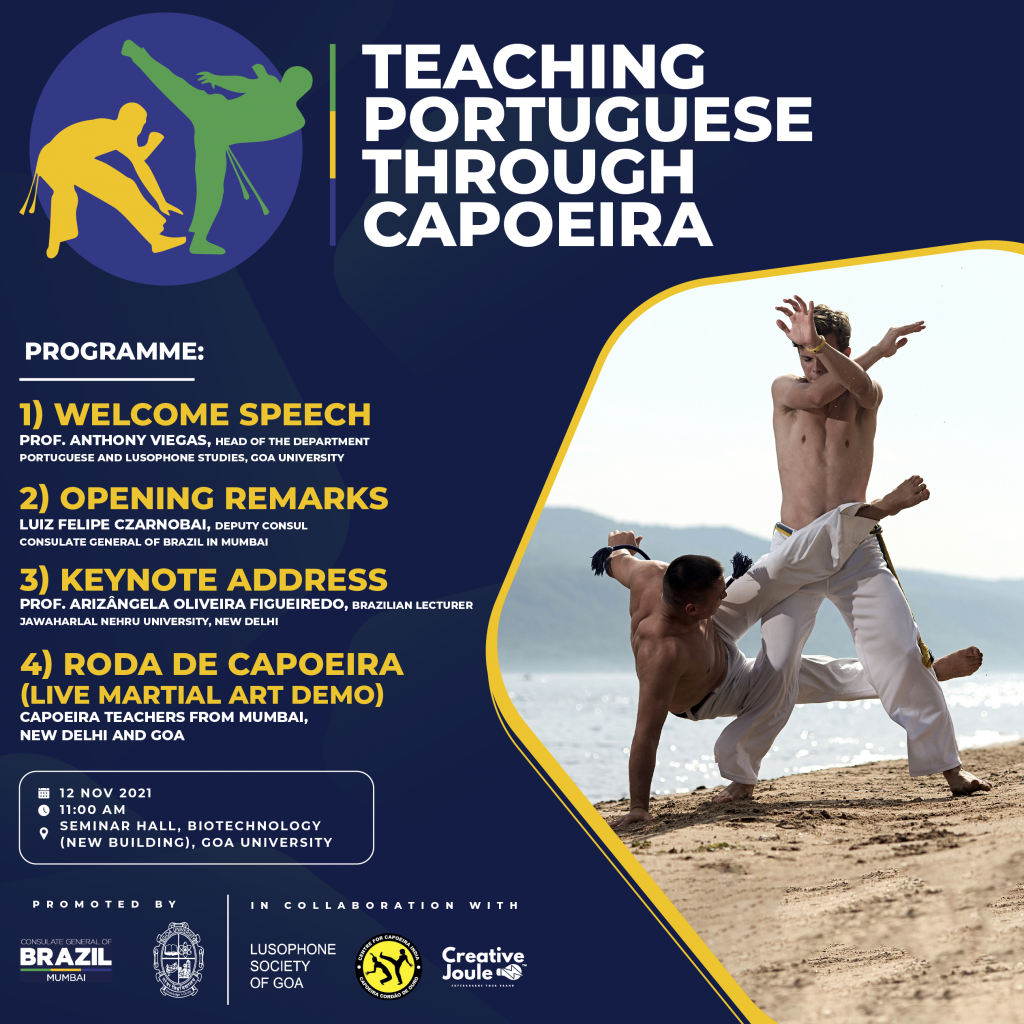 To increase the learning of foreign languages, the development of basic skills of communication and artistic expression are often used. Based on choreographed national and international dances, foreign language teachers work on the translation, pronunciation and reading of musical texts with the students a procedure which facilitates the study of foreign languages.
In the case of this event, the dance of Capoeira of Brazil is an interesting attempt to attract the students' attention to Portuguese language teaching at the University of Goa.
Capoeira is a Brazilian cultural expression that comprises elements of martial arts, sport, popular culture, dance and music. The self-defense struggle was developed by African slaves brought to Brazil, as Brazil was the biggest recipient of slave migration, with 42% of all slaves sent across the Atlantic during the 16th century, when Portugal sent slaves from West Africa to South America.
One of the meanings of the word capoeira refers to the undergrowth areas in the interior of Brazil.
Capoeira is disputed by two people who face each other in the middle of a circle formed by other capoeira dancers, to the sound of hand clapping and of berimbaus. The object of the game is to take down your opponent. The berimbau, the main instrument that provides the characteristic sound, is made of a stick, a piece of wire and a gourd.
Capoeira developed mainly in Bahia and spread to several states, such as Rio de Janeiro, São Paulo and Pará.
The practice of capoeira works on motor coordination, improves flexibility, balance and dexterity, relieves everyday tensions and provides creativity and freedom of movement.
The present event "Teaching Portuguese through Capoeira", promoted by the Consulate of Brazil in Mumbai and by the University of Goa, in collaboration with the Lusophone Society of Goa, takes place at the University of Goa on November 12, 2021, at 11 am at the Seminar Hall, Biotechnology (New Building). This roda de capoeira will be presented by teachers from New Delhi, Mumbai and Goa.