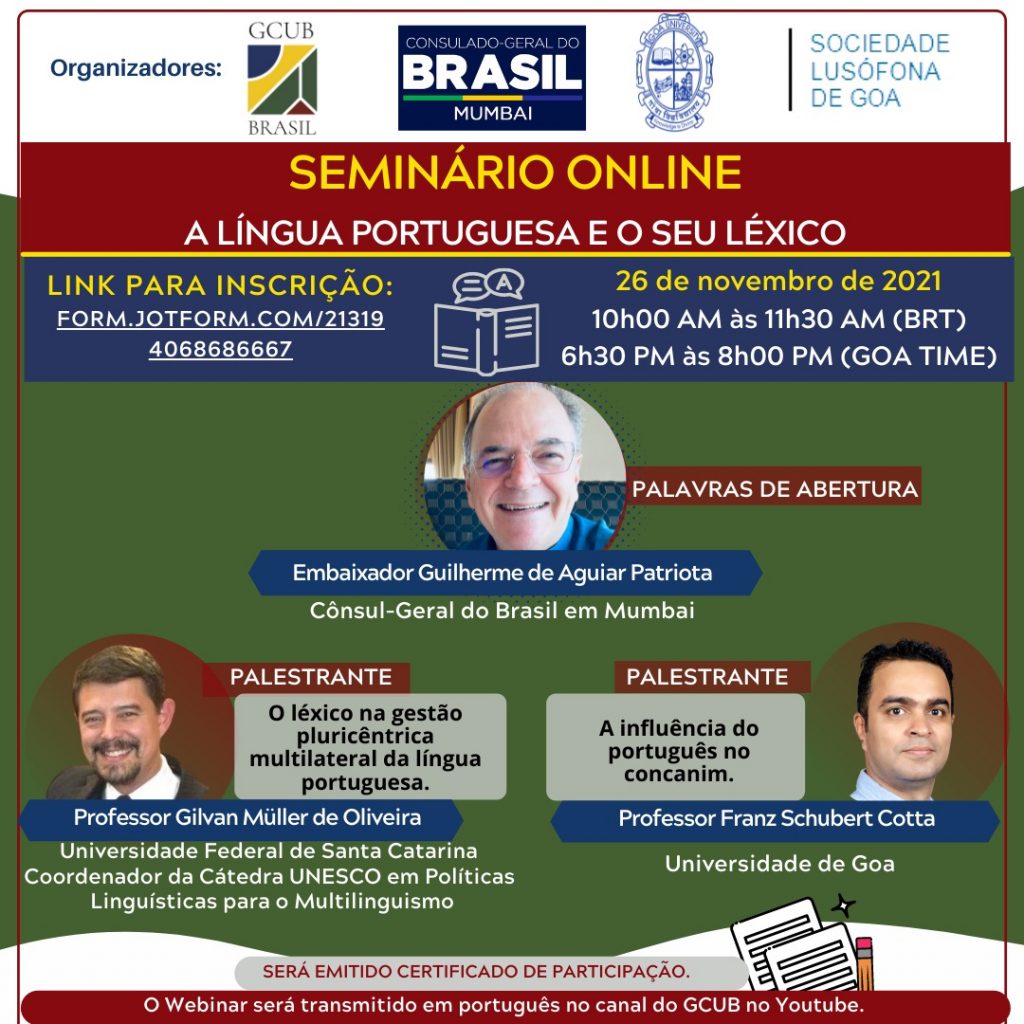 Konkani and Portuguese in Goa
Konkani is an Indo-Aryan language spoken in India. It has its origins in a Sanskrit vernacular, with inevitable corruption of some words. It has been relatively out of reach of influences from other languages, with the exception of some Portuguese in the last three or four centuries and some Kannada during the period from the 12th to the 14th centuries. For this reason, it is much closer to Sanskrit than the Marathi language which is also spoken in Goa, particularly by those who profess the Hindu religion.
Konkani is spoken throughout the region of Konkan on the west coast of India: in Goa, on the southern coast of Maharashtra, on the coast of Karnataka and in Kerala. Each region has a unique dialect of Konkani and its own style of pronunciation. It is assumed that the language was spread to these areas by the inhabitants of Goa who fled the Portuguese Inquisition during the Portuguese administration. Texts are written in two different scripts, the traditional Devanagari or the Roman alphabet, as a result of Portuguese permanence in the region. During the Portuguese administration, Konkani included many Portuguese words and expressions.
For some time Konkani was in danger of disappearing, as the progressive western modernization of the Indian subcontinent, including the strong Portuguese influence in Goa since the 16th century, resulted in greater use of English among Catholics, while local differences led to the adaptation of Marathi by the Hindus living on the coast of Maharashtra.
Just to give you an idea of ​​Goa: Goa was a Portuguese colony from 1510 to 1961, that is, for about 450 years. During these centuries, Portuguese was the official language of Goa. In 1961 the Indian Union, which had become an independent republic in 1947, the Indian Army invaded Goa and Goa was annexed to the Indian Union.
Today, Konkani is spoken throughout Goa, and is the official state language implemented by the Goa, Daman & Diu Official Language Act 1987. English became the official language of administration and Portuguese has gradually been disappearing since 1961. Currently, very few Goans speak Portuguese, perhaps eight thousand in a population of around 1.6 million inhabitants (a population that would correspond to the number of inhabitants in the Brazilian federal state of Tocantins). Goa is a federal state of the Indian Union, and has a surface area of ​​about 4,000 km2, being smaller than, for example, the area of ​​the Federal District of Brasília, with its 5,802 km2.
This online seminar "The Portuguese language and its lexicon" is a joint organization of the International Cooperation Group of Brazilian Universities (GCUB), the Consulate General of Brazil in Mumbai, the University of Goa and the Lusophone Society of Goa and will be opened by Ambassador Guilherme de Aguiar Patriota, Consul General of Brazil in Mumbai.
Speakers will be Professor Gilvan Müller de Oliveira from the Federal University of Santa Catarina and Professor Franz Schubert Cotta from Goa University.
The webinar, which takes place on November 26, 2021 from 10 am to 11:30 am (BRT) corresponding to 6:30 pm to 8 pm (Goa Time) will be broadcast in Portuguese on the GCUB YouTube channel. Application link https://form.jotform.com/213194068686667